10/01/2022
Kazakhstan Burning: Central Asia's Richest State Faces the Crisis of a Lifetime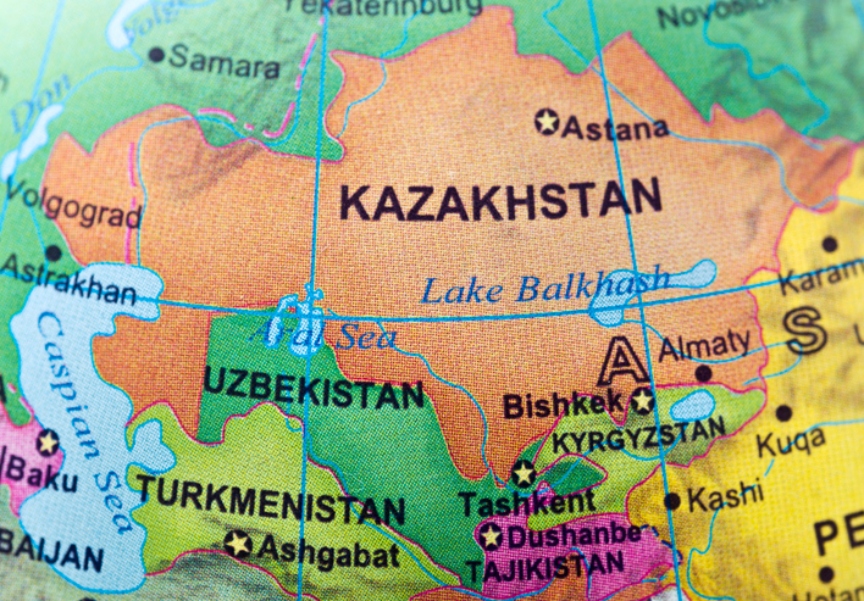 Since 2 January, Kazakhstan has been rocked by mass protests which began in the town of Zhanaozen, located in the oil-rich west of the world's ninth-largest country by area. The protests were triggered by the Kazakh government's ill-timed decision to double the price of liquefied petroleum gas, from KZT 60 to KZT 120 per litre. The government dithered but ultimately gave in by lowering the price of LPG to KZT 50 per litre, a price at which its production became deeply unprofitable. President Tokayev blamed the government for the pricing misstep and sacked Prime Minister Askar Mamin. Nonetheless, demonstrations began to spread quickly across the country, with increasingly violent clashes between protesters and the police erupting in Aktobe, Aktau (west), Shymkent, Taraz, Taldykorgan, and especially Almaty (south), as well as Kostanay and Pavlodar (north), among other locations.
The protests turned most violent in the former capital city of Almaty which was de facto left undefended by law enforcement and became the victim of large-scale looting over several days. According to President Tokayev, more than 20,000 heavily armed radicals converged on the city of almost 2 million people, in a country of only 19 million. Latest independent estimates show that the total damage caused to the city exceeds USD 200 million, but this figure will likely increase as days go by. Targets included the city government of Almaty, an imposing multistoried Soviet-era building overlooking the central square, and the former presidential palace, both of which were burned down to ruins.
Economic woes
The current unprecedented crisis that Kazakhstan is facing has both socioeconomic and political explanations. Since the price of crude oil went into freefall in 2014, amid the fracking revolution in the US, Kazakhstan's economy has been in steady decline. The oil price fell from an average of more than USD 100 per barrel in 2014 and the immediately preceding years to less than USD 30 per barrel in January 2016. Its slow recovery between then and 2020 was most recently undermined by the Covid-19 pandemic and the short-lived but nonetheless painful price war between Russia and Saudi Arabia at the beginning of spring 2020. Kazakhstan remains heavily dependent on the exports of hydrocarbons, especially petroleum, which accounted for nearly 45% of the state budget in February 2020. Although its tenge-denominated GDP has been showing modest but steady growth since the mid-2010s, in US dollar terms it has been shrinking: from USD 236.6 billion in 2013 to only USD 169.8 billion in 2020.
Despite being Central Asia's biggest economy with the highest GDP per capita, Kazakhstan, not unlike neighboring Russia, is prone to large wealth disparities, particularly between large cities, such as Nur-Sultan and Almaty, respectively the current and former capitals, and rural areas. In 2011, when the price of oil exceeded USD 100/barrel on average, months-long protests erupted in the oil-rich west of the country over inadequate pay, long hours, poor housing, corruption and lack of social security, culminating in a bloody crackdown on peaceful protesters in Zhanaozen on Independence Day (December 16). This time, protests also began in Zhanaozen, although they later turned violent in Almaty, the biggest and richest city in the country. Compared with 2011, the Kazakh economy is in much worse shape today and the wealth gaps have only got wider across the board.
There is also a regional dimension to bear in mind. Kazakhstan is sharply divided between the West, South and North/East/Center along ethnic, cultural and economic lines. Dwellers of the western provinces, which produce most of the national wealth in the form of oil and gas, have been demanding greater autonomy from the center for years. Following the Zhanaozen events, President Nazarbayev instituted the new Ministry of Regional Development to tackle socioeconomic problems specific to the western regions where thousands of poorly educated young men have been losing jobs at increasingly depleted oil deposits whose development began in Soviet times, sometimes over half a century ago. The experiment fizzled out shortly thereafter, the ministry was abolished but the problems have stayed – unresolved and unaddressed.
Tokayev rises
Since succeeding Nursultan Nazarbayev as president in March 2019 and being reconfirmed in this position in a June 2019 presidential election, Kassym-Zhomart Tokayev, former speaker of the Senate and experienced diplomat, has put forward three packages of political reforms. However, none of the core reforms envisaged by the new president have ever been implemented. In fact, former president Nazarbayev remained the power behind the throne due to his constitutional status as Leader of the Nation (with full immunity from prosecution and a host of exclusive prerogatives), chairman for life of the Security Council and chairman of the ruling Nur Otan party.
Tokayev had repeatedly attempted to get rid of Prime Minister Askar Mamin (appointed in February 2019), a Nazarbayev confidant, but failed in as many attempts, including after the January 2021 elections which were followed, as tradition dicates, by the resignation of the cabinet and the appointment of a new one. Under pressure from Nazarbayev, Mamin and the rest of the ministerial team were reconfirmed by Tokayev. In the midst of the political crisis on 5 January, President Tokayev – left to manage single-handedly the unprecedented challenge to Kazakhstan's domestic stability – forcefully took over the chairmanship of the Security Council from Nazarbayev. He then quickly dismissed the head of the National Security Committee (KNB) Karim Massimov, a Nazarbayev loyalist, as well as his first deputy Samat Abish, who also happens to be Nursultan Nazarbayev's nephew. On 8 January, the authorities reported that Massimov, the eminence grise of the Nazarbayev regime, had been detained on suspicion of high treason.
Not surprisingly, once Tokayev reasserted himself as head of state with full authority over and responsibility for the security apparatus, Kazakh law enforcement began to actively engage in combat with radical elements on the streets of Almaty, pushing them out of the city center. It appears now, based on patchy reporting from the ground, that the KNB might have been previously involved in setting up and operating secret training sites for radical elements in the mountains, and that the radicals who ravaged Almaty for several days had received money, weapons, alcohol and drugs from Nazarbayev's entourage. The moment of the truth has yet to come, and the Tokayev administration will have to do a lot of explaining about how the current crisis came about. So far, it has only spoken of coordinated attacks by groups of extremists some of whom were non-Kazakhs, with unspecified overseas backing.
Nazarbayev falls
As Tokayev rose, Nazarbayev fell, losing the one key position he had left for himself upon leaving the presidency in 2019. As head of the Security Council, effectively placing himself above the president, he had the constitutional authority to vet appointments to the strategic positions at the national and regional levels, to determine Kazakhstan's national security, defense and even foreign policies, to formulate proposals to the government that were subject to mandatory examination, and so on. These powers were complemented by additional ones attached to Nazarbayev's 2010 Leader of the Nation designation, for example the right to address parliament at any time. More crucially, though, Nazarbayev was able to retain effective control over the country's extensive law enforcement and security apparatuses and, as chairman of its fund governance council, the Samruk Kazyna sovereign wealth fund whose total assets account for 60% of Kazakhstan's GDP.
Nazarbayev last appeared in public at the end of December 2021 when visiting, together with Tokayev, the informal summit of the Commonwealth of Independent States (CIS) in St Petersburg under the chairmanship of Vladimir Putin. During that visit, Putin markedly lavished praised on Nazarbayev and addressed him cordially by name and patronymic while simply calling Kassym-Zhomart Tokayev 'my colleague' and never mentioning him by name. It all changed on 5 January as Nazarbayev reportedly fled the country alongside his family members on several private jets and Tokayev remained in charge of the increasingly dramatic situation across Kazakhstan. Although Nazarbayev's spokesperson said on 8 January that the former president had not left Nur-Sultan since the new year, any information about his current whereabouts is subject to caution. In any case, the Kremlin has since fully embraced the Tokayev administration as the only legitimate government worth helping to defend against mounting domestic security threats.
Nazarbayev's fall has huge political and economic implications. His family, including daughter Dinara Kulibayeva and her husband Timur Kulibayev each of whom has an estimated net worth of nearly USD 3 billion, according to Forbes magazine, and their numerous cronies many of whom feature on Forbes Kazakhstan's richest people list, are holders of significant assets in Kazakhstan and abroad. Many of those assets are now at risk of expropriation. By extrapolation, their overseas partners should be vigilant as to what happens next to joint ventures and other projects which have received funding that may sooner or later be declared tainted by corruption associated with the Nazarbayev regime.
Russia intervenes
On 5 January, President Tokayev appealed for help to the Collective Security Treaty Organization (CSTO), a collective defense body created in 1992 and comprising Kazakhstan, Russia, Armenia, Belarus, Kyrgyzstan and Tajikistan. Similarly to NATO, the CSTO Charter contains a mutual defense clause in case of external aggression or, otherwise, foreign threat to any member state's security, stability and territorial integrity. To justify his appeal, the Kazakh president said at a Security Council meeting that the radicals who inflicted substantial damage on hundreds of administrative buildings, private businesses, and social infrastructure in Almaty and elsewhere had been trained abroad. "These terrorist groups are international in nature […] and their violent acts against Kazakhstan must be considered acts of aggression", he said.
Whether the CSTO had strong enough legal grounds to reply positively to Kazakhstan's request for assistance will be extensively debated in the future because Tokayev's characterization of the domestic threat as an external one is utterly unconvincing. Still, the CSTO reacted quickly, with Russia, Belarus and Armenia taking the lead to formulate a common position to help an ally in times of crisis. Russian, Belarusian and Armenian airborne troops have been arriving in Kazakhstan since then, entrusted with guarding critical infrastructure against armed attacks. As a measure of precaution, to avoid direct contact between ethnic Kazakhs and foreign soldiers, it was decided to exclude CSTO forces from direct engagements with the radical elements.
While Russian military intervention in Kazakhstan under the CSTO auspices has already been decried by some as 'occupation', it is an indisputable matter of fact that without guarantees of support and prompt action from the collective defense bloc, the Tokayev administration would have struggled to turn the tide. In the first days of the protests, Kazakh law enforcement quickly became overwhelmed by protesters whose strength grew as they started receiving weapons from yet-to-be-identified couriers and also began to hijack ammunition from police and National Security Committee arms depots. Time will tell how long the Russian and other CSTO troops will stay in Kazakhstan (this has yet to be determined), but for now Russia has firmly sided with the Tokayev administration and is betting on its ability to stabilize the country.
Bumpy road ahead
At a time when Kazakhstan's law enforcement authorities are gradually placing one city after another under control, skirmishes are still raging across certain areas of Almaty and in other places, with reports suggesting that many radicals have been retreating to the depths of Almaty Oblast, closer to the border with Kyrgyzstan. At the same time, peaceful protests continue in the West where demonstrators are still demanding root-and-branch political reforms, such as new elections to the Mazhilis (the lower chamber of the parliament), the democratic election of currently appointed regional governors, a return to the 1993 parliamentary-style constitution and even the resignation of President Tokayev. In his address to the Nation on 6 January, Tokayev emphatically refused to negotiate with 'bandits' and 'terrorists', criticized 'so-called free media and human rights activists' for alleged complicity in the riots and warned about the dangers of anarchy and arbitrariness.
Only at the end of his speech did Tokayev return to the need to carry out profound reforms, but he refused to provide any details. It was later reported that Tokayev would address the parliament on 11 January with a keynote speech in which he will announce a new cabinet and is likely to thrash out the latest reform package which would ideally go above and beyond what he has wanted, and failed, to implement so far against Nursultan Nazarbayev's resistance. The Tokayev administration has no other choice but to engage in a genuine dialogue with the peaceful protesters who have legitimate concerns about their own well-being and the future of their children. Yet, as the history and experiences of so many other countries show, it is impossible to reform a corrupt, dysfunctional political machine in one day or even one month; the reform process will be fraught with risks and pitfalls as Tokayev will inevitably seek to reshape the elites to his advantage, in parallel to the gradual dismantling of the most outrageous aspects of Nazarbayev's legacy.
As far as foreign investors are concerned, they should be on the constant lookout not only for physical security risks, which have become all too apparent in the past week, thus shattering Kazakhstan's long-standing image as an island of stability in a chronically unstable region. They should also carefully consider any shifts in the distribution of political influence and economic resources among elites, given how entrenched the Nazarbayev clan has become since the 1990s in all main sectors of the Kazakh economy, from oil & gas to banking to transport & logistics to real estate. That includes, among other things, developing an ability to read the undercurrents, to look through direct and indirect affiliations, and to understand the intertwined aspects of geopolitics and geoeconomics.
By George Voloshin, Head of Aperio Intelligence's branch in Paris