29/10/2020
Jordan's renewables sector; keeping the momentum up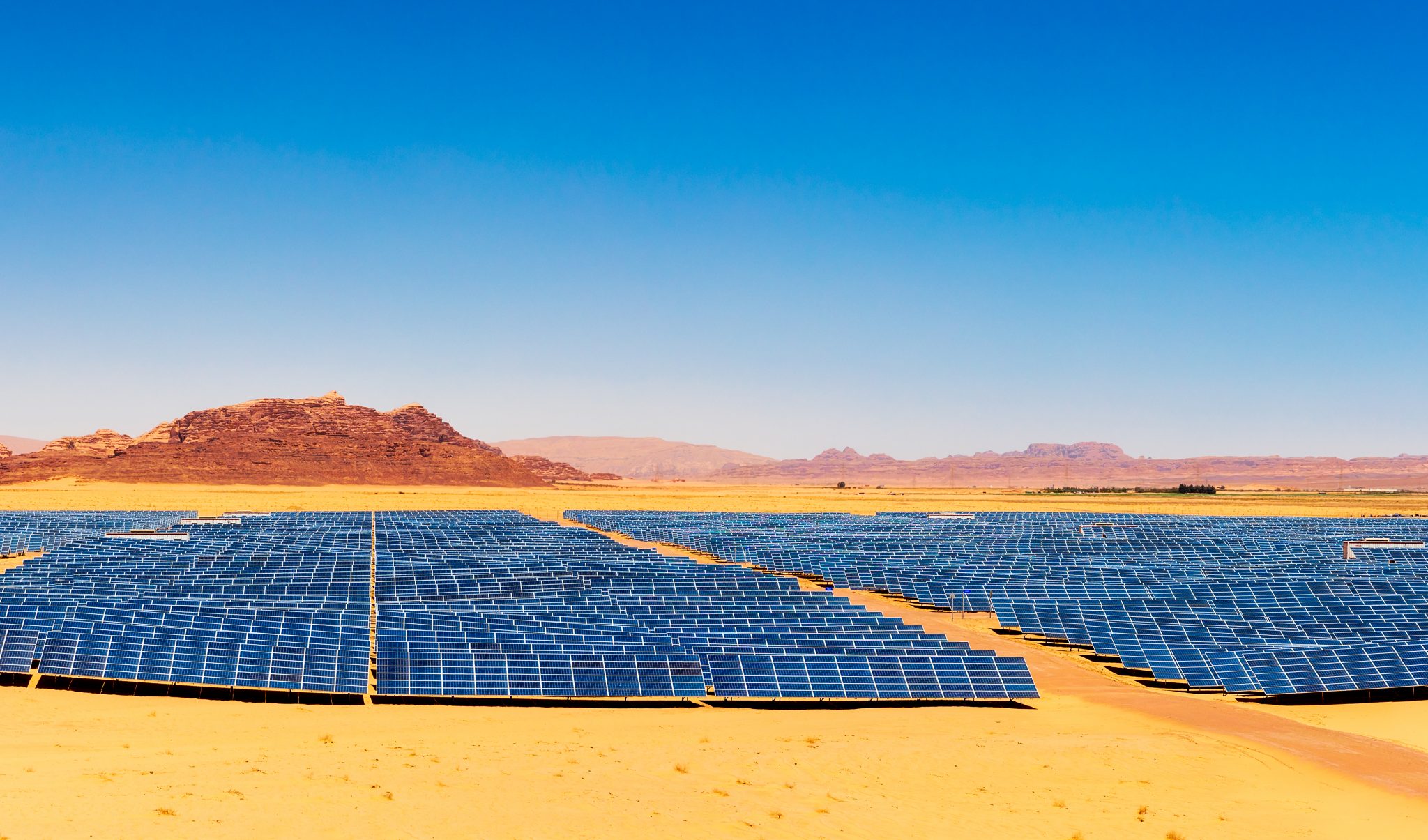 As the Middle East pivots towards a greener future, Jordan's renewable energy sector faces significant challenges
Despite ambitious renewables targets, large-scale solar and wind projects have stalled due to an over-supply of energy
A lack of strategic direction from policy makers, which pre-dates covid-19, is also affecting investor confidence
Future regional connectivity with Saudi Arabia and other neighbouring states could allow Jordan to export surplus electricity and become a regional hub, but there are obstacles to overcome
Introduction
As international interest grows in the Middle East's potential as a clean energy hub, investors in Jordan's renewables industry are facing some tough years ahead. Over the past decade, hydrocarbon-poor Jordan has stood out, together with Morocco and Egypt, as a regional renewables leader. Favourable climatic conditions, political stability, ambitious government targets, and a solid regulatory and legal framework have led to the successful completion of large-scale solar and wind projects. Despite this progress, an over-supply of energy, a lack of strategic direction from policy makers, the economic effects of covid-19 and continued dependence on imported fossil-fuels are all eroding the Hashemite Kingdom's attractiveness as a destination for green investment. The government's recent pivot towards regional connectivity offers some hope, but a clearer vision and tangible progress will be needed to entice back investors and developers.
Ambitious targets
Since 2007 the Jordanian government has set ambitious goals for clean energy. Due to its lack of conventional hydrocarbons, Jordan is heavily reliant on imported fossil fuels, which currently account for over 95% of the energy mix. This places a significant burden on the national budget and has accelerated pressure for energy diversification. Reliance on imports also holds Jordan hostage to the political stability of its neighbours. Between 2011-15, unrest in Egypt led to the interruption and then suspension of Jordan's supply of natural gas, forcing the government to turn to international markets for more expensive diesel and heavy fuel supplies.
Against a backdrop of 300 days of sunshine per year with an average direct solar radiation intensity of 6 kWh/m2, the National Energy Strategy 2015-2025 set a target of 40% of energy to derive from domestic output by 2025, with 11% from renewable sources. In May 2019, Jordan's Minister of Energy and Mineral Resources, Hala Zawati, increased the 2025 target for renewable sources to 20%.
Jordan has succeeded in developing a series of large-scale solar and wind projects, having issued three major tenders in 2012, 2013 and 2016. An estimated 89% of the developers of these projects have been small or large foreign independent power producers. Most initiatives have been heavily supported by development finance institutions, which have provided the majority of debt finance, often using innovative financing models. Jordan's Renewable Energy Directorate estimates that a total of USD 3bn has been invested in commercial renewable energy projects in the country to date.
Outside investment in Jordan's renewable energy sector reflects the varying strength of its strategic relations with regional and global powers. Several high-profile wind and solar projects are owned or backed by Gulf states, principally Saudi Arabia, the UAE and Qatar. For example, the 117 MW Tafila Wind Project is owned in part by Masdar (a subsidiary of Abu Dhabi's Sovereign Wealth Fund – Mubadala). In January 2019, the 103 MW Quweira solar plant, backed by the Abu Dhabi Fund for Development, was renamed the Sheikh Zayed Solar Power Complex after the UAE's founding father.
Challenging times
Despite being widely heralded as a regional pioneer, Jordan's renewable energy sector faces a number of challenges. First is the country's current over-supply of energy, with demand not growing as quickly as hoped. The over-supply is compounded by the nature of the local electricity market, which operates on a single-buyer model, whereby the National Electricity Company (NEPCO), the state-owned utility and sole off-taker, is obliged to purchase all electricity produced. The result is that the government is committed to buying electricity that it cannot always sell.
Jordan's long-term agreements for gas and oil purchases have also been cited as a major obstacle to the growth of the renewables sector. Of particular note is the USD 10bn natural gas deal signed between NEPCO and US-Israeli consortium Noble Energy. Under the agreement, Noble will supply Jordan with gas from Leviathan, Israel's largest offshore natural gas field, for a period of 15 years. The first gas began to arrive in 2020. The agreement was highly controversial in Jordan (which has a large population of Palestinian origin) and was condemned by activists and parliamentarians for making Jordan dependent on its neighbour for its energy needs. The main political opposition party, Islamic Action Front, called it a "black day in the history of Jordan" and there have been protests in Amman calling for the government to withdraw from the agreement. Alternatives to Israeli gas are available, and, when it has needed to in the past, Jordan has diversified its supply, for example by importing Liquefied Natural Gas (LNG) via the Aqaba floating LNG terminal. In early September 2020, Jordan also re-started oil imports from Iraq, which had been halted by covid-19.
Confidence in the renewables sector has also been eroded by the absence of a clear and updated strategy from the Jordanian government beyond 2025, which stems from wider economic and market headwinds. The January 2019 decision to suspend approvals for large-scale renewable energy projects was a blow to the industry, and raised questions as to the government's long-term commitment.
There are also fears that the government may target the clean energy sector as a means for revenue generation, in light of the country's huge deficit. In early 2019, a 25% increase in tax payable on the purchase of hybrid cars came into force. This was followed by a proposal to charge new fees and taxes on residential PV systems, a move that was strongly criticized by the Jordanian Renewable Energy Establishments Society (REES) in July 2019, . In an interview with the Jordanian television channel Roya News, a representative of REES criticised the government for not only failing to build on its recent gains in delivering clean energy, but for not consulting more closely with renewables companies active in Jordan.
Regional connectivity
As a result of the over-supply of electricity, the Jordanian government has been looking at regional connectivity as a solution, but specific details are lacking. In January 2019, Hala Zawati said that the government's strategy is based on seeking to expand grid integration with its neighbours, particularly Saudi Arabia. On 16 August 2020, Jordan signed a memorandum of understanding with Riyadh on a 164km electricity grid interconnection project linking Qurayyat in Saudi Arabia with East Amman. Later that month, Israel indicated that it was considering purchasing a limited amount of solar power from Jordan to meet its own domestic targets.
The covid-19 pandemic has hit Jordan's economy very hard, and the renewable sector is suffering. However, the Hashemite kingdom's attractiveness as a safe regional hub offers hope, and the country is well-placed as a transit partner for a regional grid system. A clearer policy direction and concrete steps towards a regional grid could still win back doubters.
By Tom Ready, Head of Strategic Intelligence at Aperio Intelligence
thomas.ready@aperio-intelligence.com
About the author
Tom Ready leads Aperio Intelligence's Strategic Intelligence practice, helping clients to navigate complex commercial situations and unfamiliar markets. He previously worked for the UK Foreign & Commonwealth Office, specialising in the Middle East region. He is a fluent Arabic speaker who has lived and worked in Saudi Arabia, Jordan and Turkey. He holds a bachelor's degree in Arabic from the University of Cambridge and a master's degree in International Conflict Studies from King's College London. For further information, please contact: thomas.ready@aperio-intelligence.com