22/10/2020
The next step for Nagorno-Karabakh: will the EU implement sanctions?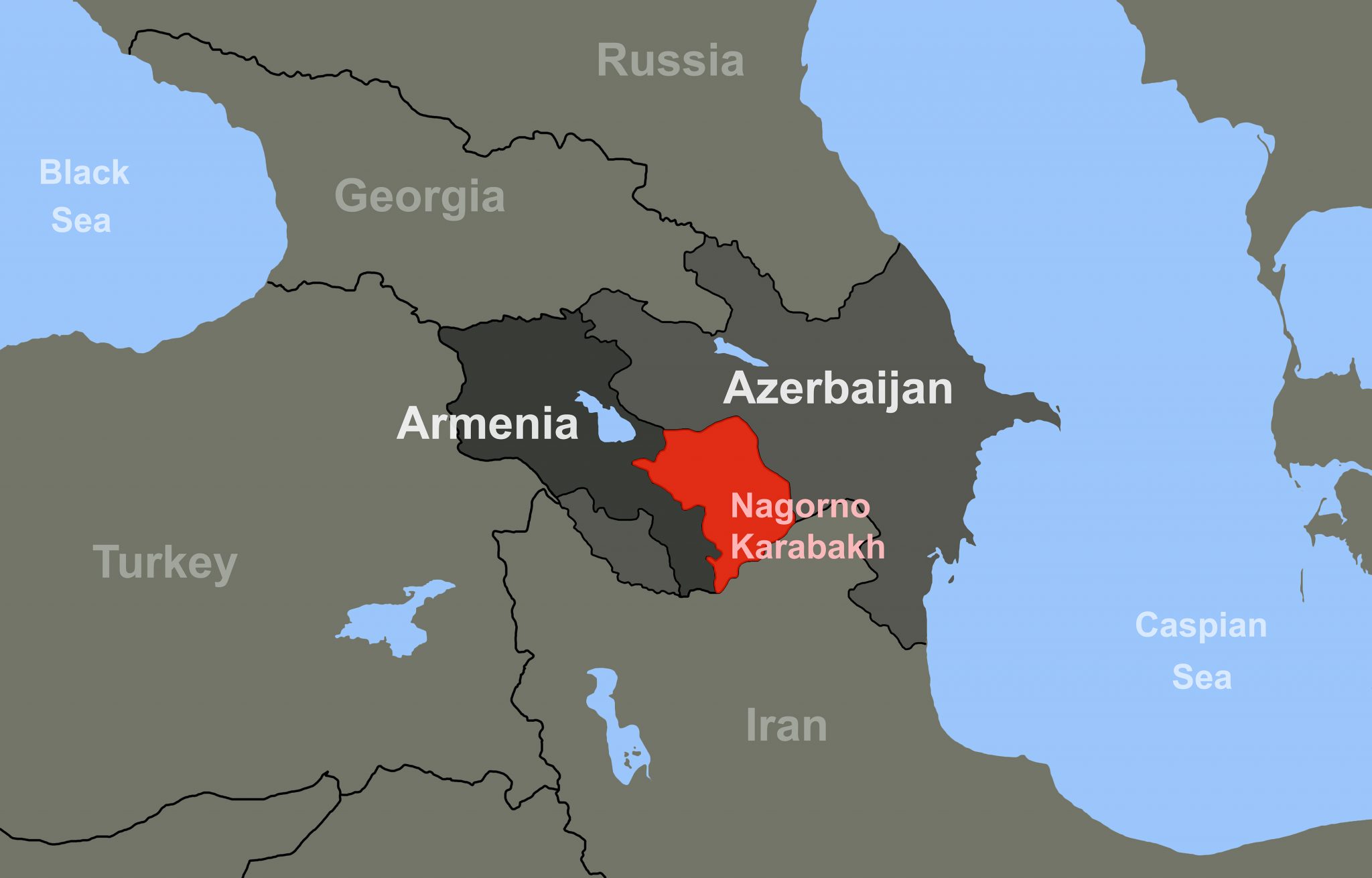 As violence continues to escalate in the conflict between Armenia and Azerbaijan, in the context of the US's self-absorption with domestic issues and the repeated failure of the Russia-brokered ceasefire, the EU is under increasing pressure to take a clear policy stand.
EU sanctions against Armenia have not yet been on the agenda but the EU has previously considered sanctions against both Azerbaijan and Turkey, which will likely influence future action.
The current conflict could push the EU to implement sanctions on Azerbaijani and Turkish officials, reversing previous indecision and lack of unanimity.
A conflict with long roots
27 September 2020 saw the beginning of renewed fighting between Armenia and Azerbaijan in the new chapter of a decades-long conflict over Nagorno-Karabakh. This territory, officially recognised as part of Azerbaijan but populated and governed by ethnic Armenians, was placed under Azerbaijan's control in the 1920s by Stalin, then acting commissar of nationalities for the Soviet Union. Armenia and Azerbaijan were at war between 1991 and 1994, which left approximately 30,000 casualties and hundreds of thousands of displaced persons. Sporadic flare-ups and animosity between the two sides have continued since 1994. Now, three weeks since a fresh outbreak of fighting, a humanitarian crisis is looming with around half of Nagorno-Karabakh's population of 150,000 displaced since the start of the fighting, over 700 military deaths on the Armenian side and the deaths of approximately 96 civilians on both sides, recorded as at 21 October. Azerbaijan has not disclosed its military death toll.
Broken ceasefire
Hopes of a ceasefire were raised on 10 October when Russian foreign minister Sergey Lavrov mediated talks between his Armenian and Azerbaijani counterparts in Moscow. However, only several hours after a humanitarian ceasefire was agreed, shelling restarted. Both sides blamed the other, and the fighting has continued since then. The situation repeated itself on 17 October, when both sides blamed the other for violating a renewed ceasefire only minutes after it was implemented. Given the domestic focus of the US in the run-up to the election, it has been largely disengaged from the situation, aside from routine public comments by US government officials, such as Mike Pompeo, calling for a ceasefire.
The EU's commitment has mostly focused on the allocation of aid and internal discussions. The EU High Representative for Foreign Affairs Josep Borrell ("Borrell") has stated that the conflict must be mediated and acted on within the framework of the OSCE Minsk Group, effectively excusing the EU's lack of further action. However, if the violence continues, and repeated ceasefires are not respected, the EU will have to act more decisively to prevent a humanitarian catastrophe between two members of its Eastern Partnership policy initiative. As mediated talks and ceasefires prove ineffective, the EU is more likely to consider targeted sanctions as the best course of action.
Likelihood of EU sanctions on parties linked to the conflict
The EU is unlikely to implement sanctions against Armenia, as the latter has been widely portrayed as the victim of Azeri aggression and has no major pre-existing geopolitical and human rights issues with the EU, even though Armenia controls territory officially recognised as Azerbaijan. The EU considers Armenia to be more democratic and Western-oriented. Following the 2018 Velvet Revolution, which brought Prime Minister Nikol Pashinyan to power, the EU increased its annual grant to EUR 65 million in 2019. Observed shortcomings in the April 2020 Nagorno-Karabakh elections were reportedly silenced to encourage the perception that democratic Armenia was a better ruler than the autocratic Azerbaijan. Armenia also has a widespread diaspora in the EU, with a community of around 600,000 living in France alone. Hundreds protested in front of the European Parliament building in Brussels in early October, demanding the EU act against Turkey. Therefore, sanctions against Armenia are unlikely to be implemented.
The EU is more likely to implement sanctions against Turkey because escalating violence in the current conflict only reinforces the EU's conviction that strict measures should be imposed on Turkey, recently due to disputes over the Eastern Mediterranean. Turkey has been more involved in this chapter of the Nagorno-Karabakh conflict than in previous ones. It has supported Azerbaijan more vocally, for example by congratulating the army for downing Armenian jets and equipping its military (Azerbaijan spent $77.1 million on Turkish defence exports in September alone). MEPs from France, Holland, Bulgaria and Sweden called for sanctions against Turkey for fuelling the conflict on 8 October, accusing it of imperial ambitions and aggression, which could only be curbed with sanctions.
Similar accusations were aimed at Turkey over its exploration and drilling activities in the Eastern Mediterranean, the territorial waters of Greece and Cyprus, which came close to resulting in sanctions in September. To persuade Greece and Cyprus to agree to sanctions against Belarus, EU leaders agreed to closely monitor developments and take appropriate measures at the latest in December 2020. Such "provocations" do not appear to be diminishing; after a brief pause to allow for talks between the two sides, a Turkish research ship returned to waters claimed by Greece on 12 October for ten days. Turkey's role in the Nagorno-Karabakh conflict therefore provides a further example of the kind of interventionist action the EU would prefer to curb.
The EU could also be moved to implement sanctions against Azerbaijan, as sanctions have previously been on the agenda due to human rights issues in the country. In 2015, the European Parliament adopted a resolution calling on the Council to consider targeted sanctions against Azerbaijani politicians for prosecutions against civil rights activists in the country. MEPs' criticism of Azerbaijan's ally Turkey also influences attitudes to Azerbaijan's role in the conflict. Greek MEP Stelios Kympouropoulos led an initiative to submit a question to Borrell on possible sanctions against Azerbaijan for its aggression and "violence against civilians" in the ongoing conflict in early October.
However, sanctions against Azerbaijan would be a riskier strategy for the EU as it would represent a clear move away from neutrality in the conflict in which Azerbaijan has also reported civilian deaths and officially seeks to recoup illegally occupied sovereign land (including Nagorno-Karabakh and its buffer zone, together equivalent to around 22% of Azeri-controlled territory). Sanctions against Azerbaijan could also have implications for EU energy security, as Azerbaijan accounts for around 5% of the EU's oil imports (its share of natural gas imports is currently low but should grow in the future). Therefore, EU sanctions against Azerbaijan are less likely than those against Turkey. However, if Azerbaijan increases attacks on Armenian civilians, this will further validate pre-existing opinions within the European Parliament on Azerbaijan's human rights record and provide justification for sanctions. Such sanctions will be easier to implement if the joint proposal for a new horizontal EU Global Human Rights Sanctions Regime, submitted by Borrell and the European Commission on 19 October, is adopted by the Council. Under this regime, the EU would have greater flexibility to target individuals responsible for violations without a need for country-specific sanctions regimes, like those currently in place in Syria and Belarus.
If the EU moved to impose sanctions, they would likely target government officials in both Turkey and Azerbaijan, many of whom own proxy companies and assets throughout the EU. Further financial sanctions, whose likelihood currently remains low, would affect elites from both countries who have widespread assets in the EU. Azerbaijani elites have already been publicly tied to real estate assets in Spain and Lithuania, for example. An EU desire to curb Turkish arms supplies to Azerbaijan could also be directed at defence companies and transporters, targeting both arms exports and energy exploration activities.
Conclusion
Considering the most recent ceasefire violation on 17 October, the EU will come under increasing pressure to do its part to prevent the escalating human cost of the fighting in Nagorno-Karabakh. The EU may realistically resort to sanctions to try to halt the fighting. Armenia is unlikely to be the target of such sanctions, as it is an uncontroversial partner to the EU and would have most to gain from a ceasefire now to retain its control of the territories, hence its strategic positioning as the victim of unprovoked aggression. Turkey and Azerbaijan would be more likely targets of sanctions, although the latter would represent a riskier move for the EU in terms of damage to diplomatic neutrality and energy security. This is because sanctions on both countries have been on the EU agenda before, and the current fighting could prove further justification for the EU to impose these measures, first on politicians of both countries and, later on, possibly on companies involved in defence, transport and technology.
---
By Claire Burchett
Analyst: Russia, CEE & Central Asia Practice, Aperio Intelligence