14/10/2019
Seminar – Investing in Italy: Opportunities and Challenges
Tuesday 12 November 2019
18:00 – 20:30
Furniture Makers' Hall, 12 Austin Friars, London, EC2 2HE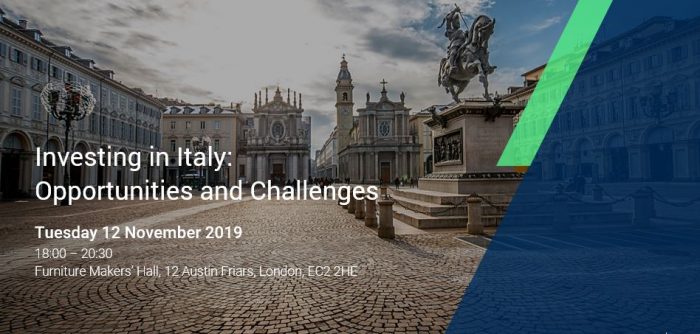 Our expert panel will focus on the current investment environment in Italy, the EU's third largest economy, whilst illuminating some of the key challenges facing foreign investors and how these risks can be mitigated. The event will be moderated by Dr Felia Allum, Senior Lecturer at the Department of Politics, Languages and International Studies at the University of Bath.
Our panellists are:
▪ Alberto dell'Acqua: Chairman of Italgas and Professor of Corporate Finance at Bocconi University;
▪ Daniele Capezzone: Journalist at Italian newspaper La Verità;
▪ Caterina Iodice: Partner and Head of the Italian desk at Greenwoods GRM LLP;
▪ Paolo Reboani: Director General of Analytics at the Italian Ministry of Labour and Social Policies;
▪ Simon Elvidge: Director at EOS Investment Management Ltd;
▪ Emilio Fiora: Colonel in the Guardia di Finanza; and
▪ Tommaso Ferrario: Partner at Milan-based law firm AMTF Avvocati.
Schedule:
18.00 Arrival, drinks and canapes 18.30 Presentations
19.00 Questions and discussion 19.30 Networking drinks
20.30 Close
To register your interest please email:
events@aperio-intelligence.com by 25 October 2019