01/06/2018
Malaysia's PM-elect vows to re-open 1MDB probe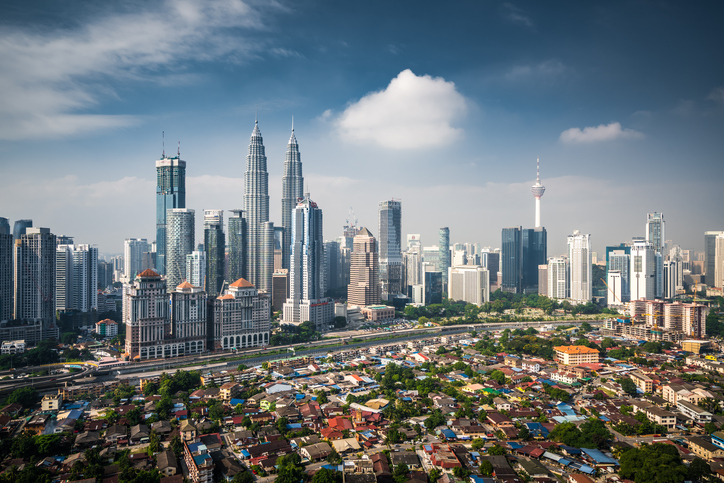 For the first time since 1955, Malaysia's ruling party Barisan Nasional (BN) has lost power. This occurred despite gerrymandering on an unprecedented scale and pre-election concessions to important voter groups, such as civil servants. The incumbent party's defeat against all odds can be directly attributed to former Prime Minister Najib Razak's role in the high-profile 1MDB corruption scandal. A central promise of the newly elected government is to scrutinise the 1MDB case and bring hitherto protected party grandees to justice. The new PM's commitment to cooperation with international law enforcement authorities will also accelerate the pace of investigations and asset recovery globally.
In 2015, the Wall Street Journal first broke the news that embezzlement on a colossal scale had taken place via Malaysia's state development fund 1MDB under the premiership of Najib (2009-2018). In total, approximately USD 4.5 billion disappeared from public 1MDB accounts, according to US authorities. Najib is estimated to have personally pocketed USD 681 million. International press coverage on the 1MDB scandal intensified. The US Attorney General even took to YouTube to announce that the FBI sought to recover USD 1 billion in its largest kleptocracy case ever. Throughout 2016 and 2017, Najib and his associates came under investigation in multiple foreign jurisdictions (Switzerland, Hong Kong, the United States, Singapore, Luxembourg, the UAE and the Seychelles).
Yet, despite media attention and prosecutions in multiple jurisdictions, in Malaysia, the home of 1MDB, impunity remained the order of the day so long as BN retained power. Several senior officials were sacked or demoted to prevent any serious investigation of the issue. Najib also made use of executive privilege and the Official Secrets Act to withhold documents containing crucial information from Malaysia's judiciary. In 2016, a farcical probe against Najib while he was still in office cleared him of any wrongdoing.
The unexpected change of government, however, marks a watershed moment. The new PM Mahathir was elected on a promise to prosecute the culprits around 1MDB. As early as the weekend following the announcement of the election results (9 May), he placed Najib and his wife on a travel blacklist to prevent their flight from any investigation. Malaysia's attorney-general Mohamed Apandi Ali was suspended pending a probe into his role in the sham investigation that whitewashed the former first couple. The head of Malaysia's Anti-Corruption Commission (MACC), Dzulkifli Ahmad, also abruptly resigned. Mahathir further ordered the auditor-general to declassify a 1MDB report, which had been firmly restricted by the Official Secrets Act. Finally, the new finance minister Lim Guan Eng announced in a tweet that businessman Low Taek Jho ("Jho Low"), a close associate of Najib, will be investigated by Malaysia's Inland Revenue Board.
The most important step, arguably, was Mahathir's decision to set up a new special 1MDB taskforce. By reinstating leading Malaysian law enforcement officials, who had been removed in 2015 and 2016 by the Najib government over their insistence that 1MDB be properly investigated, Mahathir has demonstrated his resolve to tackle 1MDB seriously.
Action soon followed Mahathir's words. In late May, Malaysian police seized USD 29 million in cash. The money was denominated in various currencies and took over three days to count despite the use of 11 automatic teller machines. In addition, 284 boxes of handbags as well as jewellery were found. Police discovered the items during a raid on an empty luxury apartment in Kuala Lumpur. Two of Najib's children live in separate apartments in the same building indicating that the searched flat might also belong to the Najib family, but police refused to confirm either the resident or owner of the property.
International cooperation
The decision not to disclose the subject(s) of the raid in Kuala Lumpur indicates that asset recovery (more than moral grandstanding) is a vital aspect of the new government's anti-corruption drive. As Mahathir explained: "We are not seeking revenge." Indeed, Malaysia is in dire need of pecuniary restoration, for example from Luxembourg, which offered talks to discuss how to repatriate illicit profits of USD 100 million seized from Edmond de Rothschild, the private banking and asset management group. Due to the previous government's bailout of 1MDB, Malaysia faced a yawning fiscal deficit. Government debt now exceeds RM 1 trillion (~ USD 251 billion), the new finance minister Lim declared. Furthermore, Mahathir's government has a vested interest in using recovered assets to restore the fiscal balance because his other key campaign promise was to forfeit USD 5 billion in tax revenue by cancelling a highly unpopular 6 percent consumption levy.
Given the global reach of financial networks and the cosmopolitan lifestyle of Malaysian elites, international cooperation is crucial for asset recovery. Whereas help from Malaysian authorities was anything but forthcoming during Najib's premiership, after the election the new government was inundated with renewed requests for collaboration from international law enforcement authorities. On 24 May, the 1MDB Special Task Force held a bilateral meeting with the FBI in the PM's headquarters in Kuala Lumpur to discuss cooperation on the fraud case. As expected, the process for returning misappropriated overseas assets to the Malaysian state was a core item on the agenda. In particular, law enforcement representatives discussed the process for returning assets seized in the US to the Malaysian authorities.
The prospects for cooperation are good. The FBI had previously stated that witnesses were too scared to testify on the 1MDB case. Najib's fall from power, however, means that many are no longer intimidated and have broken their silence. For example, a former MACC deputy chief commissioner, who has been brought back into the fold by Mahathir, publicly denounced Najib for forcing him into exile in the United States during the 1MDB investigation. Another high-ranking MACC official, Abdul Razak Idris, lodged an official complaint against Najib for allegedly conspiring with allies in the civil service to block the opening of a serious 1MDB examination.
In addition to the United States, a MACC spokesman explained that the anti-graft body enjoys close cooperation with law enforcement services in Britain, Belgium, Luxembourg and Switzerland. In a side jab, he pointed out that help from Saudi Arabia, Qatar and the United Arab Emirates, where leading royal princes are accused of wrongdoing in relation to 1MDB, was much less readily forthcoming.
In an example of rare international cooperation with the private sector, the Malaysian police also announced that it is in contact with the luxury bag brand Hermes in order to ascertain the value of hundreds of handbags from that label identified during the raid in Kuala Lumpur.
Old demons?
All this enthusiasm notwithstanding, it is important to critically assess the record of the "new" PM Mahathir, who is not in fact such a fresh face in Malaysian politics. The nonagenarian ruled the country in an authoritarian fashion as the leader of the establishment BN party from 1981 to 2003. Despite his resignation, Mahathir continued to meddle in Malaysian politics and finally decided to break away from BN, founding the opposition alliance Pakatan Harapan. While in office Mahathir oversaw average growth rates of 5-9 percent and transformed the country from a primary raw materials exporter into a diversified multi-sector economy. His system, however, was widely described as rife with crony capitalism, which the Financial Times defines as "an often inefficient and corrupt system of business in which family and friends are favoured for government or company contracts, even if better candidates are available". Speaking to the New York Times in the1990s an economist for a foreign bank in Malaysia explained that under Mahathir "[t]here's no real tendering on key projects […] Mahathir sits on a committee for key projects. If he thinks you can deliver, he gives it to you." It is no coincidence then that Mahathir's son, Mokhzani, featured on Forbes' list of Malaysia's 50 richest in 2017 with an estimated net worth of USD 420 million.
In terms of political liberty, Mahathir's record does not fare well either. He ruled as an authoritarian PM under whom politically-motivated prosecutions were a feature. One of these was against Anwar Ibrahim, jailed on spurious sodomy charges in 1999. Surprisingly, though, the opposition icon, once Mahathir's nemesis, is now his political ally. The nonagenarian PM arranged a royal pardon for Anwar and promised that Anwar will succeed him within a couple of years. But will the peace between the two men last? Interestingly, Mahathir appointed Abdul Gani to the newly established special 1MDB task force. This may be seen as an affront to Anwar, because in 1998, Abdul Gani led the prosecution in the politically motivated sodomy case against him. Anwar and human rights organisations even accuse Abdul Gani of having personally fabricated some of the evidence against Anwar.
The fear remains that Mahathir's pledge to clamp down on corruption is only one of many populist campaign promises including: the revision of an unpopular 6 percent consumption tax, scrapping toll fees, reinstating fuel subsidies and raising minimum wages. Mahathir's style is a far cry from transparent governance and fair public procurement. Nevertheless, he harshly condemned the rapacious corruption of his immediate predecessor Najib. Whether this was mere political posturing or genuinely reflected the Malaysian people's burning desire for cleaner management remains to be seen.
The numbers show that Malaysia is in need of urgent reform. According to calculations by The Economist, in 2016 Malaysia was the most cronyism-ridden country in the world after Russia: 99 percent of Malaysian billionaires' wealth, or 13 percent as a share of national GDP, was earned in "crony sectors" such as natural resources, real estate, infrastructure, or gambling. In 2014, Malaysia occupied first place in this ranking. Mahathir's anti-corruption efforts must look beyond the tip of the iceberg that is 1MDB.
Ingrid Hampe, Senior Analyst
ingrid.hampe@aperio-intelligence.com