04/04/2018
The establishment of China's new anti-corruption agency – National Supervisory Commission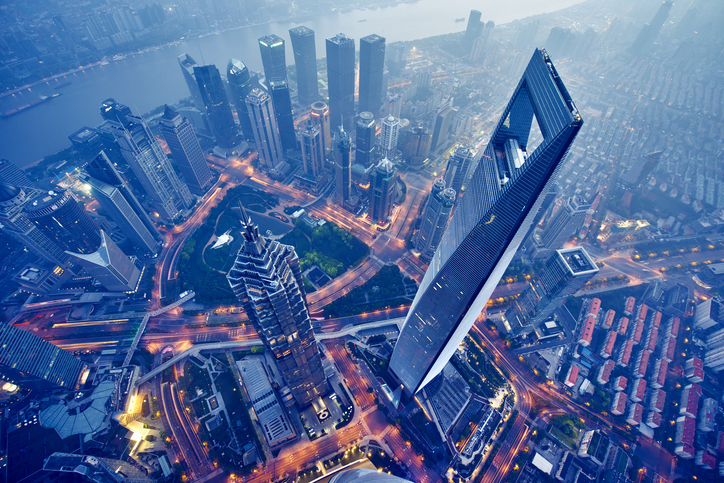 At the 13th National People's Congress (NPC) in March 2018, Xi Jinping was re-elected as president of the People's Republic of China.  An amended constitution abolished term limits for the president and newly-elected vice president Wang Qishan, former head of the Central Commission for Discipline Inspection (CCDI), the anti-corruption agency for the Communist Party of China (CPC).  This brought an end to the two-term, 10-year limit that former president and reformer, Deng Xiaoping had put into place to prevent a repeat of the turbulent period of rule under the founder of the party, Mao Zedong.
The constitutional amendment also saw the endorsement of a new National Supervisory Commission (NSC) as a centralised system to tackle corruption by placing CCDI, and other local supervisory organs under one umbrella reporting to the party body, the NPC.  New supervision laws also extended the NSC's scope of work from investigating party members to include all public officials.
Corruption has long been viewed as a threat to party stability and economic growth and as a result, anti-corruption campaigns have been a cornerstone in Xi's presidency since he came into power in 2012.  Named 'Catching tigers and flies', the crackdown on corruption from senior ranking officials to low level cadres has resulted in over 1.5 million officials being disciplined in the last five years.  Xi has also introduced an 'eight-point' regulation[1] to control the work conduct of officials by seeking to curb extravagant behaviour in the party such as the hosting of lavish banquets and the use of luxury cars.
Some of the most senior members of the party, the 'tigers,' have been disciplined and imprisoned by the CCDI.  These have included: Zhou Yongkang, former secretary of the Commission for Political and Legal Affairs of the CPC Central Committee, Sun Zhengcai, former party secretary of Chongqing and Xu Caihou, former Vice Chairman of the Central Military Commission [see case study].
The creation of the NSC and new supervision laws marks a significant, albeit controversial step in Xi's continued path in stamping out corruption and curbing excessive behaviour within the party and the public sector.
Scope of the NSC and the supervision law
Prior to the establishment of the NSC, corruption investigations on party members were managed by the CCDI, and the judicial and state agencies for non-party members.  This dual system meant that local supervision agencies could decide to expel party members, if found guilty, after investigation by the CCDI or raise cases to the government for criminal prosecution or other punishment.  Non-party members would be investigated by the police and procuratorates and tried under the court system.
The 'catching tigers and flies' campaign has seen very large numbers of party officials disciplined but the targets of the campaign have lacked an obvious, systematic and transparent approach.  Under the CCDI system, local party leaders maintained greater influence over local anti-corruption agencies who provided the funding, nomination and promotion of local anti-corruption leadership.  Local interests could potentially hinder cases being raised to other supervisory bodies while senior ranking targets have been argued to be a result of political motivations by Xi to remove his opponents.
Placing all supervision agencies under the NSC effectively institutionalises Xi's anti-corruption campaign under the party.  Party control, which sits outside of the formal legal system, has led to state organs such as the procuratorates and the police having powers drawn away and thereby forcing changes in the constitution to form the NSC.
Independent of other state agencies and on the same administrative level as the Supreme Court and the procuratorate, the NSC is headed by deputy secretary of the CCDI, Yang Xiaodu.  The surprise election of Yang to this position will mean that at the CCDI, he will continue to report to its head, Zhao Leji.  Zhao is a member of the elite seven-member Politburo Standing Committee, the highest leadership of the CPC, and was appointed to replace Vice President Wang Qishan at the CCDI in November 2017.  During Wang's time at the CCDI, Yang was a direct subordinate.  The election and appointments of the Yang, Zhao and Wang, a key ally of President Xi, sends a clear message that anti-corruption is at the forefront of party interests.
The new supervision law, adopted by China's national legislature on 20 March 2018, provides the NSC with broader powers to investigate all public officials including non-party members. These will include: government officials, personnel engaged to manage public affairs of state organs or other organisations, managers of state-owned enterprises, management in public education, scientific research, culture, healthcare, sports and others that perform public duties.  Public sector bodies and public servants from judges to village officials will all be included under this sweeping change.  Focus is also expected to include those that pay bribes to public officials and not just those that receive bribes.
The NSC will also oversee and inspect public personnel's performance of duties as well as upholding ethics or improper conduct for personal gain, indicating that the commission will also oversee ideological and political discipline.  Zhou Leji stressed in a work report at the second plenary session of the 19th CDDI in February 2018 that the party's political work should be held prior to all other tasks and that the CCDI should make all-round efforts to enforce the party's discipline.
In practice, the NSC will have the power to question witnesses, interrogate suspects, search properties, freeze bank accounts, seize and identify suspicious assets.
The previous controversial system of dual detention known as 'shuanggui', whereby any party member can be detained at a designated location at a designated time, operated outside of the criminal procedure law.  Suspects could be detained from days to months, in solitary confinement and with no contact with family members or lawyers.   The new replacement system, 'liuzhi' will be codified in law with stricter internal procedures. Suspects can be detained for three months and another three months upon approval, and family members notified within 24 hours of their detention (unless it impedes the investigation).
The anti-corruption campaign so far
Although the new anti-corruption agency came into being this month, reforms have been in place since 2016.  The Chinese government began reforming the supervisory system with pilot programmes in Beijing, Shanxi and Zhejiang, which were later expanded nationwide in 2017.  The impact of these changes has seen a substantial increase in the number of officials under supervision.   Before the pilot programme began in Beijing, the figure was 210,000 but by December 2017, this had increased to 997,000, almost 5% of the city's population.
According to Xinhua, in the last five years, over 1.5 million officials have been punished for violations and these have included party members from all levels. According to Yang Xiaodu in October 2017, since 2012, 440 officials at, or above, provincial corps level have been investigated for corruption, of these 43 were members and alternate members of the CPC Central Committee as well as nine from its own, CCDI.
Yang Xiaodu also noted that more than 8,900 city level officials, over 63,000 county level officials and 278,000 party members and officials were also punished in the same period.   By the end of December 2017, 3,866 fugitives had been arrested from more than 90 countries with more than RMB 9.6 billion (USD 1.48 billion) recovered by the police.
Despite the actions of the Chinese authorities, including action taken against GlaxoSmithKline and its executives including a British national over bribery allegations [see case study], international perception shows little notable change. Transparency International ranked China 77th out of 180 (41 points out of 100) in its 2017 Corruption Perception Index, with the highest number of points being the least corrupt. Compared to 2012, when Xi first came into power, the score was 39 points.
Coupled with added anti-corruption measures, Xi has also begun a recent crackdown on excessive borrowing and risk by large-scale private conglomerates.  The crackdown on high debt levels marks the start of heightened scrutiny into the private sector and indicates that prominent tycoons, even in the financial industry, are not immune to prosecution.   Rapid growth, aggressive overseas acquisitions, opaque ownership and shareholding structures of these private conglomerates has added media attention to how these businesses have managed rapid growth under a relatively short period of time.
The latest targets have been Ye Jianming, the Chairman and founder of CEFC Group, one of China's largest private oil and gas companies, and Wu Xiaohui, Chairman of Anbang Insurance Group, one of China's biggest insurance conglomerates.  Ye is currently being investigated for economic crimes.  Wu, the former husband of the grand-daughter of Deng Xiaoping, was detained in June 2017 and was recently charged with fundraising fraud and abuse of position.  Following the charge in February 2018, the Chinese government took the unprecedented step of seizing temporary over control of the group for a year.
Anbang Insurance Group and CEFC Group have both aggressively pursued outbound acquisitions.  Anbang Insurance Group, with RMB 1.97 trillion in assets (USD 310.85 billion), was reported to have spent USD 30 billion in two years in an acquisition spree including insurers, luxury hotels such as the Waldorf Astoria Hotel in New York, and other property assets.  Anbang Insurance Group is also a stakeholder in some of China's largest banks – China Merchants Bank and China Mingsheng Banking Corp Ltd.
Ye is reported to be under investigation for suspicion of violation of laws.  His current whereabouts are unclear and there have been suggestions that he has been detained.  CEFC Group was in the process of acquiring a 14 per stake in Russian oil company, Rosneft PJSC for USD 9 billion which was announced in September 2017.  With the investigation into Ye, the current status of the deal is unknown.
How will the NSC affect business?
The overarching remit of the NSC will continue to place emphasis on companies operating and doing business in China to be vigilant about potential or existing relationships with public sector bodies and their personnel.  The inclusion of the public sector, not just public officials, adds further challenges in identifying and understanding relationships and associations.
Thorough and detailed due diligence will need to be conducted to establish these potential risk areas.  For example, supervision laws could cover supplier and contractors conducting public duties on behalf of the public sector.   In the past where a contractor, who was not a formal civil servant or party member, was found to have taken bribes working on behalf of a local public agency would not have been covered under supervision laws, the recent changes make prosecution and punishment possible.
The new supervision laws do not cover the private sector but there is no doubt a close relationship exists between the government and state-owned enterprises.  Investigations into targets of the NSC could potentially touch upon private companies and lead to scrutiny of their business practices, particularly with the new added focus on bribe givers. Companies will need to ensure that their internal procedures related to corruption and bribery are reviewed to account for the recent changes.
Although investigations have mostly been focused on Chinese nationals, foreign companies will also need to monitor developments.  The GSK case has already demonstrated that the Chinese authorities will prosecute and go after foreign companies and nationals.  In this case, the Chinese investigation has concluded but the investigation has moved to other international anti-corruption agencies and the Serious Fraud Office investigation is still in progress.
The creation of the NSC is expected to provide more structure and organisation into anti-corruption work however, until the first cases related to the new supervision laws are investigated and tried, it will not be known how the NSC will operate, who it will investigate and how it will conduct its enforcements.
Anti-corruption work continues to be at the forefront of Xi's policy initiatives, and with the creation and widening scope of the NSC, the numbers investigated do not appear to be showing signs of slowing down.
Case study: Corruption in the party  
Xi Jinping's sweeping crackdown on graft has not shied away from targeting the most senior officials in the Party including those in the military.  In the past, these officials were considered part of the untouchable elite.  However, in the years following the announcement of the campaign which some have argued is politically motivated, Xi Jinping has continued to pursue various party members, their families and their associates, for corruption and bribery.  Some of the most high-profile cases include:
Zhou Yongkang was the Secretary of the Central Political and Legal Affairs Commission, which oversees all legal enforcement, and a former member of the Politburo Standing Committee. He retired in 2012.  Prior to his retirement he was the third most powerful politician in China but was placed under investigation in 2013.  His trial was held in secret in 2015 and he was jailed for life for bribery, abuse of power and intentionally disclosing state secrets.
Zhou was convicted of accepting bribes. He and his family were accused of taking RMB 129 million (USD 21.3 million) in bribes and that he had used his position to personally accept money and property worth RMB 731,000 (USD 117,000) from five people.  Money and property worth RMB 129 million (GBP 13.4 million) were accepted by his wife, Jia Xiaoye and son, Zhou Bin. His son was later sentenced in 2016 to 18 years in prison for taking bribes and illegal business operations.   He was fined RMB 350.2 million (USD 53 million).   Zhou Yongkang's wife was also jailed for nine years and fined RMB 1 million (USD 150,000) for taking bribes.  Close associates of Zhou Yongkang have also been jailed.  These include Zhou Benshun, a former aide of Zhou Yongkang, who was convicted in 2015 of taking RMB 40 million (USD 5.8 million) bribes directly, or through his family.
Sun Zhengcai, former Communist Party Secretary of Chongqing, was the youngest member of the Politburo Standing Committee since 2012. He was charged with bribery by the Supreme People's Procuratorate in February 2018.  He has been accused of taking advantage of his posts to seek profits for others and illegally accepting 'huge amounts' of money and property. He is reported to have been the only fourth sitting Politburo member to ever be expelled from the Party.
Xu Caihou, former Vice Chairman of the Central Military Commission, and former member of the Politburo. He was amongst the highest-ranking military until he retired in 2013. Xu Caihou was accused of accepting bribes, awarding promotions, and sought profits for others in exchanges for bribes. He was expelled from the party and prosecuted.  The investigation continued despite Xu Caihou being diagnosed with terminal bladder cancer. He died in 2015.
Guo Boxiong was the former Vice Chairman of the Central Military Commission who served alongside Xu and was also a former Politburo Standing Committee member. In July 2016, he became the highest-ranking military official prosecuted since the end of the revolution in 1949.  He was accused of taking advantage of his position to help in the promotion and reassignment of others and had accepted huge amounts in bribes both personally and in collusion with others.  The case was held in a closed trial and no official figure of the bribes were given.  Guo Boxiong was sentenced to life imprisonment.
Ling Jihua, former Director of the General Office of the CPC, adviser of retired president Hu Jintao was demoted under Xi's presidency. In a closed trial in 2016, Ling was accused of taking more than RMB 77.08 million (USD 11.6 million) in bribes personally and through his family.
Case study: Corruption at GlaxoSmithKline
GlaxoSmithKline (GSK), the British pharmaceutical company listed in London and New York, was the largest corruption scandal involving a foreign company since Xi came into power.   In 2013, GSK was investigated by the Ministry of Public Security after it was accused of an organised corporate programme of bribing doctors to promote GSK medical products.   GSK sales executives were alleged to have paid bribes totalling RMB 3 billion to hospitals, doctors, medical associations and foundations to increase its drug sales.  The money had reportedly been channelled through 700 third-party travel agencies since 2007.
The original allegations came from an anonymous whistle-blower but an internal investigation found no evidence.  It was suspected that the whistle-blower was Vivian Shi, former GSK head of government affairs who had been fired by GSK in December 2012 for falsifying travel expenses.  Secret footage of Mark Reilly, former British head of GSK's China operations, and his mistress, having sex in his Shanghai flat was later sent to over 10 GSK executives and PwC executives, the company's auditors.  Believing this to be part of a smear campaign against him, Mark Reilly, with the authorisation of GSK, engaged private investigator, Peter Humphrey of ChinaWhys to investigate who was responsible.   Peter Humphrey, a British citizen and his Chinese-American wife were later detained in 2013 for illegally purchasing information about Chinese citizens and were jailed for 2.5 years.
GSK was found guilty of bribery at a Changsha court and fined a record RMB 3 billion (USD 490 million/GBP 297 million) in 2014.  Mark Reilly was given a suspended three-year sentence and was deported.  Another four executives were given suspended sentences of between two and four years.
The bribery scandal led to other criminal investigations into GSK's businesses overseas including the Serious Fraud Office in the UK and Department of Justice (DOJ) in the US for possible breaches of the Foreign Corrupt Practices Act.  In 2016, the company paid USD 20 million (GBP 15 million) to settle civil charges with the Securities and Exchange Commission for bribing foreign officials through disguising bribes as legitimate travel, entertainment and marketing expenses.    The DOJ closed its probe without any action against the company.
Four years later and GSK is still dogged by the China bribery scandal.  The Serious Fraud Office, which begun investigations in May 2014, recently requested information from GSK about "additional information from the Group regarding third party advisers engaged by the company during the China investigations.  The Group has also informed the SEC and DOJ of these matters and is responding to their request for additional information"[2].  There is no indication from GSK about who the third-party advisers are however the SFO is expected to decide this year if it will file criminal charges against GSK for bribery.
Yan Li, Associate Director
yan.li@aperio-intelligence.com
[1] The eight points are: leaders must carry out in-depth inspections at the grassroots level; meetings and major events should be strictly regulated and efficiency improved; the number of official documents should be reduced; official' visits abroad should be arranged only when necessary for foreign affairs; there should be fewer traffic controls when leaders travel by car; the media must not report on stories about official events unless there is real news value and worthless news reports on senior officials work and activities should depend on work needs, news value, and social effects; leaders should not publish anything by themselves or issue any congratulatory letters unless an arrangement with central leadership has been made, and leaders must practice thrift and follow regulations on accommodation and cars.
[2] Full year and fourth quarter 2017, GSK Press Release, 7 February 2018